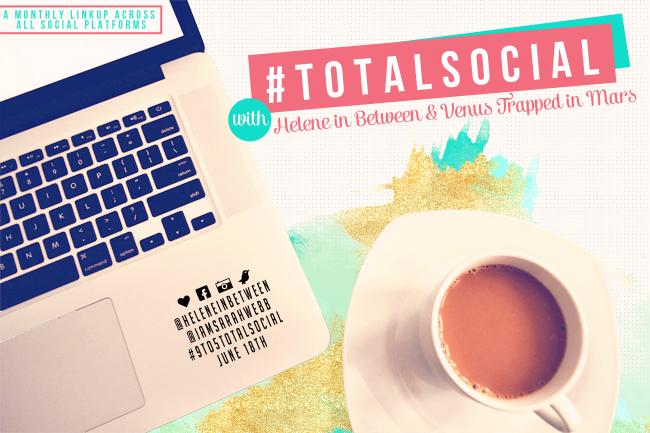 Hey Guys! I decided to participate in my first #TotalSocial with
Helene in Between
and
Venus Trapped in Mars
. This month's topic is "My 9 to 5". #total social is a monthly linkup that any and everyone can join in on via twitter, instagram, facebook, and blogs. This is such a fun and cool way for bloggers and social media fiends like myself to connect!
My 9 to 5 situation is quite unique. I am a Licensed Esthetican and Makeup Artist in the beautiful, and unbearably hot and humid, state of Georgia. I have worked in salons and spas but I've always had a dream to be my own boss and start my own wedding makeup business and eventually one day have my own makeup line. Most salons and spas require weekend availability which threw a wrench in my dreams of being able to focus on wedding makeup. Now, being 22 at the time and living on my own, quiting my spa job to focus on starting a business that is primarily focused on weekends was just not going to happen. I was stuck between a rock and a hard place. Follow my dreams or pay my bills. Not an easy decision let me tell you.
Fast forward to April of last year. My dad has worked for a landscaping business as the sales manager for quite some time. He started with this company when they were just starting up and he decided to stick with them in order to help the company grow. It wasn't always easy for him but by April of last year, the company had more work than they knew what to do with. With a flourishing company comes a busy and sometimes unreasonable schedule. He could not keep up with his work load and was finding himself working 7 days a week and sometimes 15 hours a day just to get everything done. He knew he needed help and had interviewed a few people for the position. Suprisingly I was not his first choice...thanks dad.
I was working at a spa full time that was ran by a
crazy
unique colombian massage therapist who was also quite vocal. Needless to say, I was misearble. I was once yelled at for purchasing a birthday balloon (using my money and gas) for her client that did not have enough helium. During that 15 minute rant on how disappointed she was that I did not meet her balloon purchasing expectations, I decided I wanted out. I called my father when I left that day so frustrated. I didnt know what to do. I was done dealing with crazy spa and salon owners. He offered me the opportunity to come in to the office and work on a few things for him to see if I would be a good fit.
He offered to let me fill the position for what I was making before I left the last spa, I had weekends off for wedding makeup, and in the event I needed some time during the week for my wedding makeup business I could have it as long as I made up my work/hours. Pretty sweet deal huh? Go ahead and slap a cape on my dad and call him Superman because he definitely saved the day. Naturally I took the offer...I mean DUH who wouldn't. It's an amazing feeling knowing that I have an amazing father who will do anything he can to make my dreams obtainable.
I work full time in his office doing and managing estimates, taking apart complete landscape designs and pricing them out, keeping up with his schedule, helping with sales, and anything else I can do to make his life easier. Right now I work Mon.-Fri. 9 to 5 (and sometimes more) and I focus my weekends on doing wedding makeup and extra in the occasional tv show or movie. I rarely have a day off these days but it is SO SO SO worth it. I'm a long way from being able to "quit my day job" and only do what I love but I am getting closer and closer every day. I am way beyond blessed.
Moral of the story, I am one lucky/busy girl with an awesome dad and the world in my hands.
That is my 9 to 5 story. Lengthy I know but I hope you enjoyed it. Be sure to follow me on bloglovin for some awesome sauce beauty related tutorials, reviews, and posts.